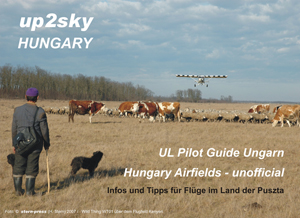 up2sky HUNGARY

4th issue - December 2009

An indispensible pilot's travel companion if you wish to fly an Ultralight Aircraft into or within Hungary. It comes with a well structured general overview of the abstract legal regulations and contains loads of valuable information directly taken from our own extensive flying practice. You will also find a nonofficial directory of 128 airstrips complete with the most relevant data for the aviator and uptodate information including a colored airfield survey map which can be doublefolded (created by 'GARMIN Czech'). Furthermore, in this UL pilot's guide you will come across most useful contact addresses, a comprehensive listing of all Hungarian UL Clubs, a most concise English-Hungarian dictionary particularly for aviation purposes including key phrases for easy communication on the spot and so much more...

scope / size

48 pages (coloured) / DIN A5 (19,5 x 15 cm)

publisher:

Fliegerclub Q'TAI FLY Austria

editing by:
Helmut Stern (heading)
© copyright by:
stern-press /

INTERNATIONAL MEDIA SERVICE


www.stern-press.com /

[email protected]
Pilot Guide HUNGARY
incl. airfield list - 128 airstrips with data and info
4th issue - December 2009, 48 pages
revised

48 pages

DIN A5 format: 19,5 x 15 cm
all pages in color!
... all important information for UL flying in Hungary!
... with folding airfield overview map in colour!
... with useful phrases and words in English-Hungarian!
... explanations in English / Hungarian / German!

Price: Euro 14,50
plus shipping (Austria: Euro 2,00

EU countries: Euro 3,70

World: Euro 5,45)
Fliegerclub Q'TAI FLY Austria
ZVR Nr.: 621895060
AT-6300 Woergl

Bruendlweg 7

Austria
phone: +36-70-6196650

email:

[email protected]
office Hungary: HU-9671 Sitke

Kossuth u. 33.

phone/fax: +36-95-442298

mobile: +36-30-5005608
Orders by email or snailmail according to our "General Terms And Conditions Of Trade" (AGB)